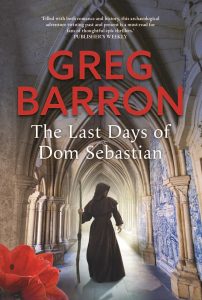 Archaeologists Francis da Costa & Nicolá Massane follow a trail of relics & myth, uncovering a tragic love story, and a voyage past the edge of the known world to Australia's Kimberley.
Review from the Publisher's Weekly BookLife team: "Barron's epic will thrill readers who love history, archaeology and a mystical twist … combines the best elements of The Count of Monte Cristo with The Da Vinci Code."
Australian Author Don Douglas: "Greg Barron's latest novel, The Last Days of Dom Sebastian is the equal of Wilbur Smith's earlier and best works. I thought I'd be able to savour it like an aged rum, but no such luck. The pages kept turning until I reached the end, which to my mind is the ultimate in excellence."
Goodreads and Netgalley Reviewer Brenda Telford: "The Last Days of Dom Sebastian is an outstanding read by Aussie author Greg Barron which I absolutely loved."
The eBook is available on Amazon here.
Also available in paperback and hardback at ozbookstore.com
2021 STORIES OF OZ PUBLISHING