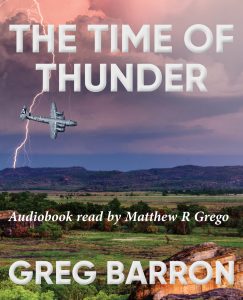 We're proud to release our first audiobook, read by Matthew R Grego.
Length: 8 hours and 40 minutes.
Set in Arnhem Land in 1990 and 1950s America, this is the story of a forty-year fight for justice.
In Australia's Northern Territory, NORFORCE Sergeant Jamie McKinnon is ordered to escort a group of Americans into Arnhem Land, one of the world's last great wildernesses. Yet what begins as a field assignment becomes a journey into Jamie's own identity.
Danny Carter was a schoolboy during the Korean War, growing up with the mystery of his airman brother's disappearance. As Danny comes of age in a rapidly changing United States, he is determined to locate his brother's lost plane in the face of murder, intimidation and loss.
Danny and Jamie, coming together from opposite sides of the world, will find that revenge extracts a terrible price, and together reveal a shocking truth that will shake the world.
Purchase the audiobook at our store and download or stream it immediately.