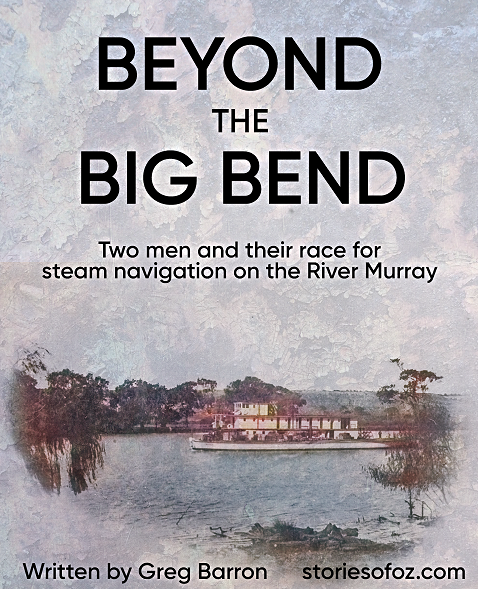 If you've lost track or haven't started reading yet, here's your chance to catch up in one quick burst. Get this five-minute summary, and next week you'll be ready to keep reading …
It's the early 1850s, and just about everyone knows that the Murray River has potential for river traffic. It takes months for drays to bring stores to isolated stations, and sheds full of wool bales wait for transport back to markets. The South Australian Government is prepared to do something about it. They offer a cash reward for the captains of the first two steam boats to not only arrive at the Murray, but travel upstream to the junction with the Darling.
Two men answer the call.
The first is William Randell, from Gumeracha, whose family are firmly entrenched in the local area. William dreams of selling his family's flour to desperate settlers and squatters up and down the river. With little idea of what they are doing, William and his brothers build their 55-foot Mary Ann in a saw pit in the Adelaide Hills, then assemble it on the banks of the Murray, installing a small beam-type steam engine made in a barn by a German immigrant friend.
William, meanwhile, has fallen for a local girl, Bessie. Her mother has forbidden the relationship on the basis that William, at twenty-nine years, is thirteen years older than her daughter, but he can't get her out of his mind.
The second man to throw his hat into the ring is Captain Cadell, a sea captain of long experience and a budding entrepreneur with grandiose designs. With the help of wealthy investors, Cadell has his 105-foot Lady Augusta built in a Darling Harbour shipyard, with twin state-of-the-art horizontal steam engines, and accommodation for thirty plus crew.
William has his steamer ready first, and with his brother Tom and a knockabout parson called Reverend Davies, he steams up the Murray towards the Darling junction, past the Big Bend towards Moorundie. Meanwhile Cadell captains his Lady Augusta through the dangerous Murray River bar and collects his crowd of dignitaries and their friends at Goolwa.
Cadell is not a man who takes a challenge lightly, and he has already done his own deal with the SA elite. With the Governor himself on board, Cadell is soon through Lake Alexandrina, and steaming upstream day and night to catch William Randell in his home-made paddle steamer. William is just three days ahead when our story resumes next week!
You'll find all the episodes in full here.
More books and free stories at ozbookstore.com