I recently caught up with Dick Eussen, author of Stone Country Justice, and asked him a few questions. For those of you who haven't read it yet, Stone Country Justice is a rollicking bush crime novel, set in the escarpment country of Arnhem Land.
What inspired you to write fiction based on Australian bush life?
I always wanted to write fiction but demand from magazine publishers was heavy and they paid good money, so never had the time. I did write a novel about 20 years back, but never finished it. I wrote another about 10 years ago, but no publishers showed interest in it as it's over 80,000 words. One stated that I was an 'unknown" and would be better off starting with a smaller novel to get known on the market. She ignored the fact that I have had seven other books published and am a top name in outdoor magazines. But it inspired me to write Stone Country Justice.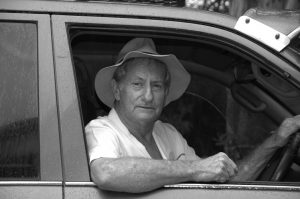 What's the novel about in one sentence?
Arnhem Land and its largely traditional culture that is enduring into modern times.
Most people would know you as a fishing and outdoors writer, but your background is pretty exceptional. Can you give us a brief outline of your early working life?
I arrived in Australia from the Netherlands after a long cruise in April 1955; spoke no English and found school difficult because of it. Frustrated I never finished eighth grade and headed bush for work. My first job was as jackaroo in the QLD outback as a 17-year-old. Being born and bred on a farm helped. Later I did three cane seasons at Mossman in North QLD and worked on cattle stations in between – horse breaking, fencing and mustering. In 1961 I discovered that working in mines paid three times as much for about half the work. I did labouring, plant and equipment operations, emergency services, Public relations, and Industrial photographer while working at Mt Isa Mines, and the uranium mines of Mary Kathleen and Kakadu. I spent over 30 years in the industry before commencing a tour operation into the Daintree Rainforest for a decade. I sold the business and retired to concentrate on writing.
My first article was published in a shooting/fishing magazine back in 1957. It was about hunting scrub bulls. From there on I submitted pieces to outdoor magazines and others. For some reason people identify me a fishing writer, but I have had more articles published in offroad/travel magazines, as well as in shooting magazines. I also have had articles published in history magazines, R. M. Williams Outback, Australian Women's Weekly, newspapers and in-house magazines of major mining companies.
Your novel is quite specific when it comes to equipment – guns, vehicles and gear. How does your background as a bush journalist help with that?
This is no mistake as I am very familiar with all things firearms, off-road vehicles, the bush and purpose-built bush equipment. Having an intimate knowledge about them made it easy to fit in the story and unlike many other writers I deal with the subject with firsthand experience.
All writers enjoy reading. Can you list some of your favourite authors?
I love early Australian non-fiction authors – Ion Idriess, George Farewell, Alfred Searcy, Baldwin Spencer, Bill Harney, Michael Terry, Douglas Lockwood, Glenville Pike and my favourite female writers Ernestine Hill, Jeannie Gunn and Mary Durack.
What's the most terrifying thing that's ever happened to you in the Australian bush?
Attacked by a 4m East Alligator River crocodile while dozing against the outboard motor in my tinnie. And a face-to-face encounter with a 3m king brown snake while 'meditating' in a gulley. I tossed the toilet roll at it and neatly stepped out of my stubbie shorts.
Stone Country Justice is available from ozbookstore.com