Rain!
Not since the Great Flood could such a deluge have fallen. We endured days when it barely let up at all. The rise on which the mission stood became a real island as the salt-pans filled, joining with Arthur's Creek. The grass turned a vivid green, and the sky a battlesmoke grey.
Conditions, overall, were unpleasant. Our clothes remained ever damp and reeked of mildew. Day and night, the frogs and bugs never ceased their cacophony. Pythons and other snakes competed with us for space and caused constant fright. A salt-water crocodile took Len Akehurst's best laying hen from just behind the mission house. One of the older mission girls ran after it, prepared to belabour the reptile with a garden stake, until reliable Lizzie restrained her.
Kitty and I continued our meetings under the sheet of canvas with which I had equipped her camp. Thus protected from the rain she told me how, when her Joey was in the Territory, she rode from camp all the way into Burketown where she walked into Watson's store and asked him to read her anything relating to Joe in the newspaper.
Even if he was busy, the kindly shop-keeper would pour Kitty a cup of tea and sit her down on the bench seat that ran along the store front, deep in the shade of the verandah. Court news from Darwin dragged on for so long that it became quite the talk of the town, and most people thought that Joe should be released.
'They won't release him,' warned the storekeeper. 'They never do. Joe doesn't even have a lawyer to speak on his behalf.'
'How we get Joey one of them?' Kitty asked.
'Money,' Watson explained, rubbing his thumb and forefinger.
Kitty rode back home, and together she and Henry figured how much cash they could get their hands on. A cheque had just come back from the smelter, and they had been saving two small but rare silver nuggets that had been 'bandicooted' from the claim. They did not know if it was enough to pay a solicitor, so when they rode together to Normanton, Henry first arranged to sell the nuggets, then left Kitty on the street with the horses while he walked into Heley's pub. There he addressed the bar, and collected another three pounds ten shillings from well-wishers. The total sum he converted to a teller's cheque at the Queensland National Bank.
Their final call was on the skipper of a ketch, anchored in the Norman River and intending to sail with the morning tide for Port Darwin. The man was known to Henry, and they trusted each other.
Henry pressed the cheque into the skipper's hands. 'I need you to take this to Palmerston for me. I want you to find the best lawyer in that town and give him this. It's for our boy Joey, so he can be saved.'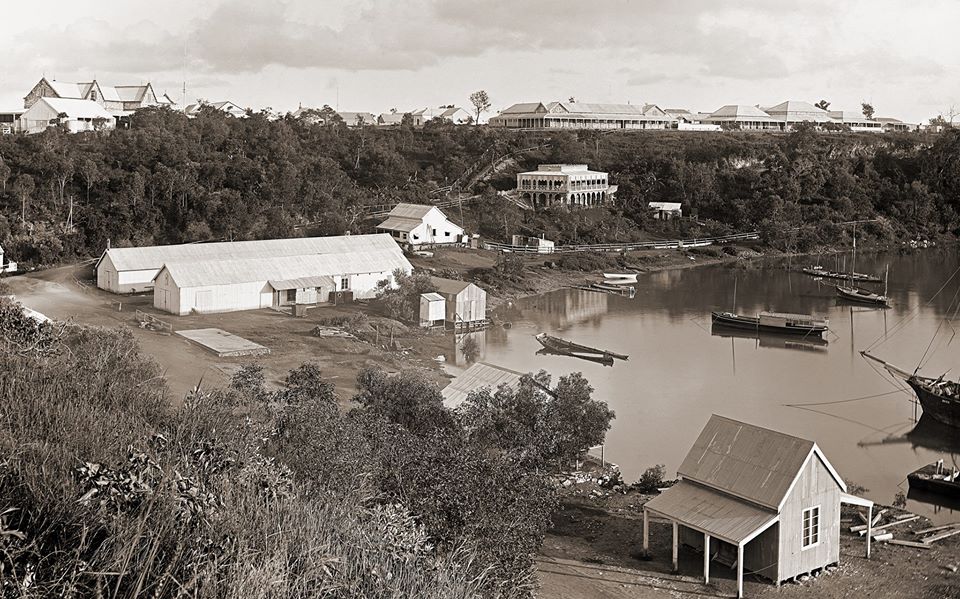 On the twenty-ninth day of June, 1889, Constable Harry Hasenkamp strolled down the gangplank of the SS Catterthun onto the Government Jetty near Fort Hill. He cast an appreciative eye on the town up on the ridge, and with his kit bag on his back, navigated the Chinaman's Walk up to Cavenagh Street.
The township of Palmerston seemed like the height of civilization to Harry. Even the chaos of Chinatown seemed like a nice change for the bush policeman.
Palmerston's German-born Commissioner of Police, Paul Foelsche, welcomed the Queenslander as a countryman and colleague, providing digs at the police barracks, and dinner that night at his residence. They drank wine, ate bush turkey baked in the oven, and spoke of progress, justice, and development.
The following day Hasenkamp made arrangements to collect Joe Flick as soon as his case could be squeezed in. The hearing was booked for the following Tuesday, and passage arranged on a steamer two days after that.
That same afternoon, the warder Tommy Cook opened the door of Joe's cell, and with him was a man in a suit and frock coat.
'Joe,' said Tommy. 'This is a solicitor. His name is Mr John Joseph Symes, and he's going to try and help you.'
Joe looked up at the newcomer. He was in his mid-thirties, with an intelligent spark to his eyes. 'Isn't it too late, now that Hasenkamp is here?'
'Perhaps,' Symes said honestly, his Dorsetshire accent still strong after more than a decade in Australia. 'But I've received some money from Burketown … your parents and some other sympathetic parties, I believe.'
That news alone – knowing he was not forgotten – was enough to lift Joe's spirits. He walked with Symes to the visiting room, where the solicitor began by telling Joe a little about himself. He had been admitted to the Inner Temple in London while still a young man, and had bought passage to Adelaide out of sheer curiosity and the need for a new challenge. After a few years there the same quality had brought him to Palmerston. 'It's not fair, what's been done to you Joe. I'm here to help.'
'Can you get them to set me free?'
'Probably not. But you can be sure that I will scrutinise Hasenkamp's every move, and if there is a legal challenge to be made, I will make it. Now, I want you to tell me every single thing that has happened since the day you committed the alleged offence …' He looked at Joe. 'Since the day you fired your revolver in the direction of Jim Cashman.'
Joe did not look at the man once as he told his story, only at a patch of blue sky through the bars of the window.
On Tuesday Joe appeared in court for the extradition hearing, and Justice Pater looked down at him, eyes welling with sympathy. After all, this was the prisoner he had so nearly released.
Joe tried not to look across the room at Harry Hasenkamp, but could not resist a glance or two. That strong jaw and arrogant glare dominated the court room.
'Constable Hasenkamp,' said Pater. 'Have you come for the prisoner, Joe Flick?'
'That I have.'
'Swear him in, Bailiff, and let's get this business over with.'
The bailiff brought out a King James Bible and swore Hasenkamp in. When it was done, the policeman gave the following statement:
'I am a constable in the Queensland Police Force, at present stationed at Normanton. I know the prisoner Joe Flick. I remember arresting him on the thirteenth day of March last year on a charge of attempting to murder James Cashman. The arrest was made about fifty miles from Burketown. He was brought before the court there, and committed for trial on the twenty-second of March, at the Supreme Court, Normanton. No bail was allowed.
'Joe Flick was escorted to Normanton gaol. I have tendered the depositions taken at the Police Court before Mr. A. Clarence Lawson, Police Magistrate. On the first day of April last year, the prisoner made his escape from gaol. I, and many others, were in pursuit of him for some time, and followed him towards the South Australian (NT) border. I now intend to take the prisoner back to Normanton to stand trial.'
Pater called Joe's solicitor. 'Mr Symes, have you any objection to the handover of your client?'
'I do not sir, provided that the Queensland officer shows the court the warrant he is carrying for that purpose?'
Hasenkamp looked confused. 'I have already tendered a warrant.'
Symes chimed in. 'Yes, Constable, but that warrant you tendered is for the crime of Attempted Murder. Joe has not been charged with that crime in the state of South Australia, only Escaping Lawful Custody.'
Justice Pater wiped his face with his hands, then glared at Hasenkamp. 'Mr Symes is technically correct. Unless you produce a Queensland warrant for Escaping Lawful Custody I cannot hand the prisoner over.'
Hasenkamp paled. 'Your honour, I have no such warrant. I didn't know it was required to be for the specific charge.'
Pater folded his arms. 'Really? How long have you been in the police force?'
'I have been in the force about seven years. I did not know that a provisional warrant had been issued for prisoner's arrest in the Territory. Furthermore, I have had no experience in such business before. Inspector Douglas is my superior officer at Normanton and he did not tell me.'
'Well,' said Pater. 'Here are the facts. I will not let the prisoner go without the correct warrant, and in fact I was on the verge of releasing him. Hurry, get the warrant, or I will make good my promise to him.'
Another four weeks passed. Another four court appearances, and each time John Joseph Symes ridiculed Hasenkamp, increasing the pressure on Justice Patel.
'The warrant is coming,' said Hasenkamp, time after time.
Still no new warrant arrived.
Finally, on the 27th of July, Justice Pater banged his gavel.
'Do you, Constable Hasenkamp, have the required documents?'
'No your honour. The judge is out of Normanton at the present time. We have sent to Brisbane, but it may still take another week.'
Joe looked at the policeman. There was something sly about the crooked grin on his face. It made him afraid of what might happen next.
Symes stood. 'Your honour. I wish to remind you that, in the last four months my client has been remanded in custody sixteen times. Sixteen times he has been taken back to his cell to rot. You cannot let this travesty continue.'
'You are right, Mr Symes,' said Patel. He fixed his formidable attention on Joe, 'I'm very sorry for what you've been through. I am releasing you now. You are free to go.'
Joe looked up. 'I can just walk out of here?'
'That's correct. Corporal! Unchain him.'
Joe glanced again at Hasenkamp. The Queensland policeman still did not look disturbed. It was as if he still had something up his sleeve.
Once the cuffs had been removed, Joe thanked Symes, then walked down the aisle, pausing only to say good bye to Tommy Cook, who was in the gallery.
Fielding curious stares from bystanders and officials, Joe walked out of the courthouse and into the mild dry-season daylight. No one moved to stop him. Then, as he left the main door of the courthouse, he looked back to see both Corporal Waters and Constable Hasenkamp following him.
He had a terrible feeling of impending disaster. He did not feel free. The two policemen hurried to catch up with him. Joe felt a strong hand grip his arm.
'Not so fast,' growled Hasenkamp, twisting Joe's hand behind his back, and slapping on a handcuff.
'What are you doing? I've been released. The judge let me go.'
Corporal Waters took over. 'You were arrested for the charge of Escaping Lawful Custody, and for that you have been released. I'm now rearresting you in the state of South Australia on the original charge of Attempted Murder, for which Constable Hasenkamp holds a Queensland warrant. You are going back to Normanton, Joe.'
The sound of the rain on the sheet of canvas that covered that portion of Kitty's camp became a roar in my ears.
'Oh, the sodding mongrels,' I said. 'How could they be so dastardly?'
Kitty looked down at the ground, where a small channel of rainwater was snaking through near her sleeping place, carrying fragments of grass, leaves and the small, powerless, bodies of ants along with it.
©2019 Greg Barron
Continues next week.
Feel free to browse the Stories of Oz bookstore below for other Australian titles. These are all paperbacks, always in stock, with $4 delivery anywhere in Australia. Most titles can be purchased on Amazon and iBooks. Click on the images to learn more about each title.