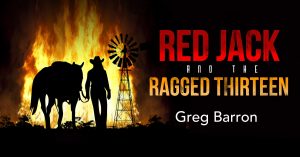 What happened to these legends? These larrikins who rode, robbed and drank rum together? Many of the facts have been lost, but these, as far as can be ascertained, from historical records, grave sites, and information from family members, were the fates of the Ragged Thirteen.
Alexander McDonald, better known as Sandy Myrtle, rode back to Central Australia, where a new rush, first for gemstones, then gold, was underway at Arltunga, fifty miles east of the town of Stuart, now Alice Springs. He built a pub there, amongst the ghost gums and spinifex, calling it the Glencoe Arms. This was a life Sandy enjoyed, plenty of rum and company, sitting on a stool up behind the bar, pouring beers and yarning with travellers and diggers. Fighters and troublemakers found themselves out on the street, and few dared argue. By then Sandy weighed twenty-eight stone in his boots.
Legend has it that he got so fat, his workers had to lift him up into a buggy when he went to visit a station he part owned, out in the scrub.
A young Arrernte woman called Korulya used to do odd jobs around the pub, and Sandy allowed her to sit inside out of the heat. Slowly he fell in love with her. When their daughter came along they called her Myrtle, after Sandy's nickname, and the station he had managed back in his youth.
Late in life Sandy returned to the care of his sister, Annie, in South Australia. He died at Miss Lawrence's Private Hospital in Adelaide, on the 4th of May, 1919.
Jimmy Woodford rode with Sandy back to the Red Centre. For many years he earned beer and tucker money collecting meteorites and selling them. Later, it seems, he ended up in Queensland, but the trail goes cold after that.
Bob Anderson, the man who, according to family lore, the Ragged Thirteen called the 'foot runner,' arrived in Normanton, Queensland, where he purchased a bullock team. He learned his trade the hard way, carrying stores between Croydon, Georgetown and Cloncurry, while he looked around for options. He married at around this time, and fathered sixteen children, not all of whom lived to adulthood.
Seizing an opportunity, Bob set up Tobeymorey Station, on the Territory/Queensland border. He also ran the Urandangi Store in the early 1900s. He was killed in a fall from his horse on the 19th of January, 1923. A memorial stands on the site where his body was found, though his grave is at the Urandangi cemetery. Bob left hundreds of descendants, many of them hard bush characters who helped forge the Queensland and NT pastoral industries.
'Larrikin' and 'Fitz' went back to stock work, droving and ringing across Northern Australia. They most likely lie in remote graves, lovingly made by their mates on the track. There are thousands of graves like this; men (and women too), buried far from loved ones, hospitals and proper fenced graveyards. Many have rotted away or sunk into the red sands or black soils of the inland.
Jack Dalley settled near Cloncurry, droving when the mood took him. His sons were all drovers, and served in World War One with distinction. He was knocked over by a car in the late 1920s, in Ramsay Street, Cloncurry, but recovered quickly. He was over seventy when he died.
'Wonoka' George and Jack Brown found work at Katherine, sawing timber in a pit, for hotelier Barney Murphy. When this work was finished they headed for a new goldfield not far from the town, out on Maude Creek. Jack grew ill, possibly from a condition related to tapeworms, and was forced to return to South Australia, where he died.
Jim Carmody, was also at the Katherine, and it was the river itself that was his undoing. After a long bout of fever, he went fishing one morning in 1889, and failed to return. His body was retrieved from the water a few hours later. Some theories ran that he fell in, became entangled in his own catgut line, and drowned. Others supposed that he had been seized by a cramp while sitting on a log over the water.
Jim Carmody's brother in law, Maori Jack Reid, lived on the Two-mile Creek out of Pine Creek, neighbours with Charlie Gaunt, until the late 1930s. Presumably he died around that time.
Red Jack rode off without Hugh Campbell, the man they called Scotty, as soon as her twin foals were old enough to do the hard miles. Scotty wandered for a while, looking for Red Jack, but she was always a step ahead; not just a myth, but an obsession. He cooked on Flora Valley Station for a while, but later became very ill, with a condition that stopped him from sweating. He headed back home for Scotland, where he died, still a young man.
'New England' Jack Woods continued to follow the gold, and butcher stolen beef. Tommy the Rag was presumably his partner for at least some of his adventures. This 1936 article in the Western Mail describes Jack's movements:
From there (Hall's Creek) Jack followed all the rushes through the Nor'-West: Murchison, Coolgardie and outlying fields. There was frequently a strong suspicion as to the source of his meat supply, but nothing wrong was ever proved against him. He was a true bush lawyer, and openly boasted that he preferred a crooked deal to a straight one. There was more thrill, he said, in the former. But money was only a medium to get drink – which was his great weakness.
Jack Woods eventually returned to New England, and lived out the rest of his days with family. Of Tommy the Rag I can find no record.
Alfred Searcy found the strain of policing larrikins like the Ragged Thirteen, and the genuine lawlessness of the north, too much for his health, and he returned to Adelaide in 1890. He was unemployed for six years, then took over his brother's job as a clerk with the South Australian parliament. He wrote several books; some fact, some fiction, that still make good reading today. He never mentioned being out-smarted by the Ragged Thirteen. He did, however, relate the time that he and O'Donohue had marched some of them into Roper Bar station. He also grumbled that some ruffians had chased off their horses on the way into Borroloola.
And what about Tom Nugent?
No letter from Emily Byrne ever came, yet he would not be alone for long. On a cattle drive he met Alice Nampin, a Garrwa woman who would be his companion for the rest of his life. They had at least two children, Maudie and Mysie.
Even today, prejudice runs deep, but despite a history littered with unforgivable instances of kidnap, slavery and rape, there were also many loving, long-lived relationships between white and black that stood the test the time, and left children who were strong, proud, and resilient. The offspring of such couples were not so often taken by authorities – they lived in rough bush homesteads with their white fathers and Indigenous mothers. Many grew up on horseback, working cattle, and were the backbone of the NT pastoral industry for four generations.
The little boy from Borroloola, George, was a natural rider and stockman. In the early 1900s, Tom was able to expand, purchasing Buchanan Downs Station. In an admirable show of trust, for the time, it was managed by George for many years. Surely he was one of the earliest Aboriginal managers of a cattle station. As Tom explained in a 1907 interview with the Australian Star newspaper:
In 1884 I came across a tiny little black toddler, just able to crawl on all fours. He was a few months old, and had apparently been lost. When I came across him he was making for a waterhole. I took him home and reared him on mare's milk, and he is the man, now in charge of Buchanan Downs.
In 1900, Jack Woods came to visit, and stayed for a few months. According to Bill Linklater, who left the most accurate account of the Ragged Thirteen, and was working on Banka Banka at the time, if anyone talked about the old Ragged Thirteen days, Tom would say, 'Why bring that up? It's ancient history.'
Life on Banka Banka Station, meantime, was good. In the same article as the above, Tom goes on to say:
'We have a piano at Banka Banka but (with a smile) we have no one to play it. We have a gramophone too, and of course we are all good at playing that. There is hardly a thing a man could wish for that is not there. We've got all the meat we want; I grow plenty of vegetables, while fish, such as the black bream and jewey abound in the fresh water. Other necessaries we get from Port Darwin, 700 miles away. We send to Anthony Horderns for clothing and boots.'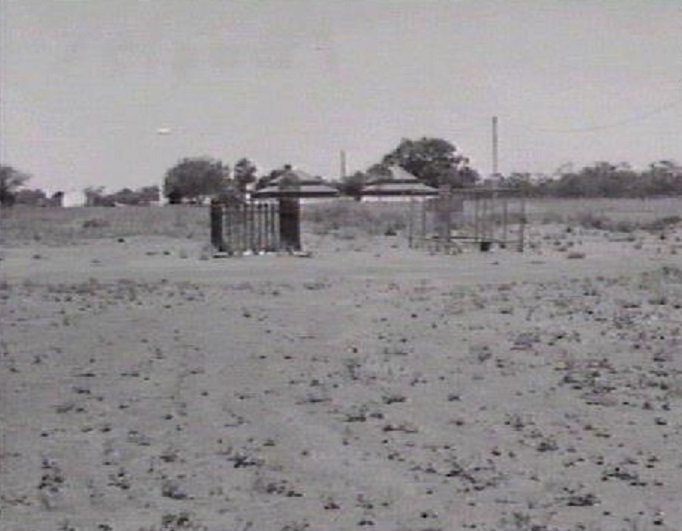 Down on Banka Banka Creek, there was a waterhole where Tom liked to sit in the evenings and read. In his last days he liked poems that stirred up memories of his youth best of all. Will Ogilvie was his favourite wordsmith, and Tom would sip from his rum bottle, read a line or two and savour it while he watched the red sun glow red and the rainbow bee-eaters flick their wings over the water.
In 1911, however, Tom grew sick from dropsy (oedema), and he died on the 7th of August at the Tennant Creek Telegraph Station. He was 63. His grave still stands there today, in the scrub nearby.
Of all the pioneering Australians I've researched, I like Tom, the 'captain' of the Ragged Thirteen the most. He had his own code, and it wasn't the same as ours, but he was loyal, wise, funny and strong. He was a better man than most of those who looked down on him and the wild, special life he led. Rest in peace, Tom Nugent.
Finally, what happened to Red Jack?
She rode on, from town to town, with her black stallion Mephistopheles, her string of horses and her memories. No one understood her, no one could contain her. As far as I know she rode and broke horses until she grew too old and frail to stay in the saddle.
We'll let the story end there.
That was the last instalment of Red Jack and the Ragged Thirteen. You can preorder the paperback version here for delivery in June.
©2019 Greg Barron
Whistler's Bones by Greg Barron is available at all good book outlets, Amazon, iBookstore and ozbookstore.com


Camp Leichhardt by Greg Barron is also available from Amazon and ozbookstore.com


Galloping Jones and Other True Stories from Australia's History is also available from Amazon, iBookstore and ozbookstore.com