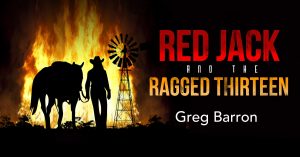 The Hall's Creek area, being on the northern fringes of the Great Sandy Desert, was sparsely vegetated except along the river courses. Much of the ground was bare: soils of red, white, grey, or shades in between, relieved by hummocks of grass, curly spinifex and mean acacia shrubs.
After rain, however, green pick came through from the burned or dried stubs of last year's grass, along with some flowers. The most beautiful of these was called the desert rose. It had green leaves, and mauve-coloured blooms, bright red at the centre.
These flowers weren't common either, but after working like a fiend all morning, when the others settled down in the shade to wait out the hours where the heat hammered down in unbearable waves, Scotty saddled up a reluctant horse and set off into the scrub.
'Where ya headed?' Tom Nugent asked.
'Nowt in particular, Tom. Jest a ride.'
Sandy Myrtle shook his head sadly. 'The sun has gotten to your head, lad.'
Scotty didn't care, he just rode away, not minding the sweat that ran down between hat and forehead, down over his neck and even the deep channel of his spine.
Leaving the diggings, he rode the sweeps of ancient sand ridges, eyes scanning for a splash of colour. In an hour of searching he found just two of those wild roses in bloom, cutting the stems carefully with his pocket knife and wrapping them in cloth dampened from his water bottle.
In the evening, when Red Jack came out of the shade to work her horses, Scotty was watching, leaning on the rails. He saw her eyes fall on the flowers sitting on a fencepost. The vase was an old bottle of Lee and Perrins sauce but it worked well enough.
Scotty watched her walk across to the flowers, pick them up, and lift the delicate blooms delicately to her nose. Then she turned and looked at him. There was something in her eyes; wistful and disturbing. He could have sworn that she came alive in that moment. As if her head suddenly filled with possibilities; regrets banished. Then, a curtain closed on her face, and she nodded once. Thanks. Acknowledgement.
Still without speaking she took the flowers into the basic little bough shed she inhabited. A moment later she came out without them, did not look in his direction and started working the horses as if nothing had happened.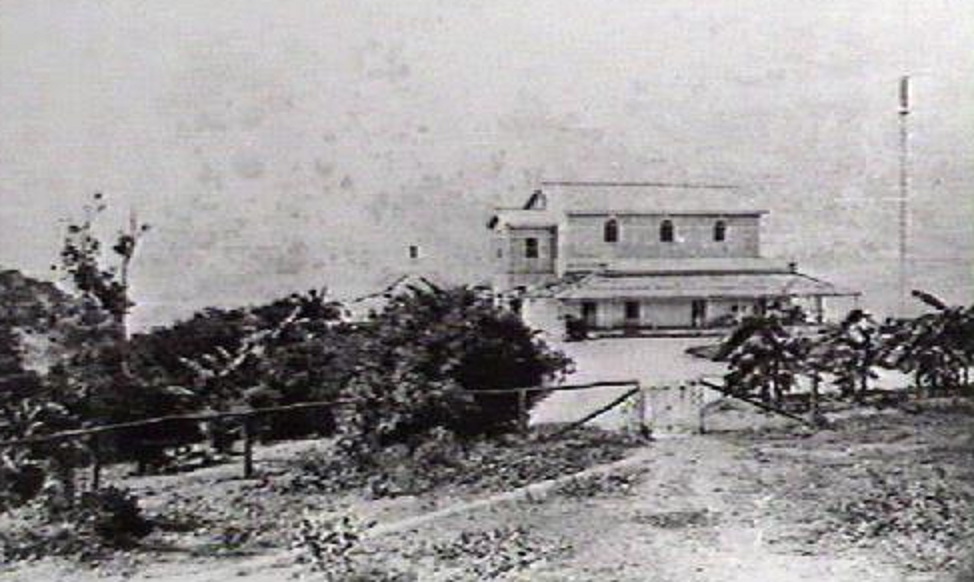 One thousand miles away, in the Northern Territory capital of Palmerston, Alfred Searcy nursed his gin and tonic as he looked out across the lawns of Government House, past Fort Hill to the harbour dazzling in the afternoon light. To his left was a long row of trestles covered with spotless white tablecloths. The bar staff, all Larrakeyah youths, shook cocktails and dropped ice in glasses with tongs, scarcely saying a word.
The lawns were trod by leather shoes belonging to the cream of the city of Palmerston. No Lords here, but certainly gentlemen and their ladies. Station owners, mine owners, merchants, ships' captains, senior public servants and ranking police officers. For Searcy and O'Donohue attendance at the reception had been well worth the three-day voyage on the steamer from Borroloola.
Standing in the shade beside the gazebo, crowned by a maze of bougainvillea flowers, was the Government Resident, the Honourable John Langdon Parsons and his wife Marianna; Darwin royalty. Like Alfred himself, the Resident and his Lady wore clothes that were inappropriately hot for the afternoon. Everyone tried to pretend that they weren't sweating – much too stoic to take out a kerchief and dab the sweat away.
Food was being carried around the crowd on silver platters by Larrakeyah girls in prim white aprons and matching pinafores. Searcy, as he chose a sausage-meat-filled pastry, couldn't help but admire the serving girl's glossy dark skin and liquid eyes. Out of scientific interest only, of course.
Turning away from the platter Alfred realised that the young architect he had been talking to had drifted away. Scanning the crowd he saw a man in the uniform of the West Australian Police, replete with medals and of military bearing. He had obviously just arrived, received a drink but had not yet attached himself to any of the groups on the lawn.
Alfred walked across and held out his hand. 'Well met good fellow. My name is Alfred Searcy, former customs Inspector and incumbent officer of the law, stationed at Borroloola.'
'Ah, Mr Searcy, why I have heard of you, of course. I'm Sub-Inspector Lawrence. Of Fremantle and more lately, Roebourne. I've spent time in the Kimberley in recent weeks and I've been meeting with Paul Foelsche here in Palmerston about how you fellows do things over here.'
Alfred could hardly believe his luck. 'The Kimberley, eh? Then I imagine you've had occasion to visit Hall's Creek?'
'Most certainly, why do you ask?'
Alfred narrowed his eyes. 'Have you had anything to do with a gang of vagabonds called the Ragged Thirteen?'
'Ah yes, I remember your letter to the Commissioner about them. Our gold warden did stop them from registering any claims, but unfortunately they found a third-party to do it for them. From all reports they've been fairly quiet … so far.'
Alfred looked around for O'Donahue. To his dismay he saw that his friend was earnestly in conversation with one of the young waitresses. He turned back to Lance. 'Please don't go anywhere, I have a comrade who should join this discussion.'
Striding over, Alfred pinched O'Donahue under the armpit and dragged him away. 'If you are determined to disgrace yourself … then do it, but not in front of the Resident, confound you.'
'I wasn't doing anything. I was only talking …'
'Leave it please. I want you to meet someone. Hurry along.'
After the introductions O'Donahue still, infuriatingly, cast predatory glances back at the girl he had been grooming. Searcy kicked him in the back of the ankle.
'Now,' said Alfred, 'my dear Sub-Inspector Lawrence. As I stated in my letter, on their way west the Ragged Thirteen robbed Victoria River Downs Station. I neglected to mention, that the theft included a valuable grey stallion. I have a warrant for the arrest of Tom Nugent or Tom Holmes, he goes by either name, as the man who stole the horse in question. If I give you the details of the animal will you arrange to have Nugent arrested?'
The WA policeman smiled. 'I'll have Sergeant Sherry down at Hall's Creek and his men bring him in at once. We can try him at Wyndham if you'll have witnesses brought over.'
'Excellent, excellent,' said Alfred, then took a moment to remember how, so many times, the Ragged Thirteen had humiliated he and O'Donohue. Talked their way out of custody at the Roper Bar. Chased away the police horse plant in the Gulf. Out-foxed and out-paced them at the Katherine, then finally made fools of them at the Negri River. Now at last, Tom Nugent, the ringleader, was in his sights.
'I'm so pleased to have met you,' Alfred said finally. 'Good men are hard to find in this land of ruffians and ne'er-do-wells.' He paused, puffing out his chest. 'And I can't wait to see Nugent in chains, in fact I do believe I'd cross hell barefoot to testify against him myself.'
Continues next Sunday …
©2019 Greg Barron
Whistler's Bones by Greg Barron is available at all good book outlets, Amazon, iBookstore and ozbookstore.com

Camp Leichhardt by Greg Barron is also available from Amazon and ozbookstore.com

Galloping Jones and Other True Stories from Australia's History is also available from Amazon, iBookstore and ozbookstore.com