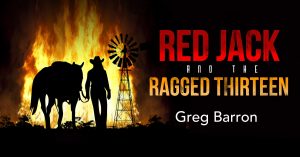 While the Ragged Thirteen rode south from the Victoria River Depot, Red Jack met the river at Gregory Creek and resolved to follow the eastern bank as it dog-legged south to Victoria River Downs and beyond.
While a fiery sunset filled the horizon, Red Jack crossed the creek on a gravel bar, reined in her stallion and swung to the ground. In a short time she had the packs unloaded, and a fire leaping high.
Even as she brushed down the satin black coat of her stallion, Mephistopheles, she never smiled. A frown of concentration was the only emotion she showed. She gave her packhorses and spares the same treatment, checked for galls where the pack had rubbed and applied ointment where necessary. Finally, she hobbled all the plant, and hung the night-bell only on Mephistopheles, for the others would not stray far from him.
Even then her work was not done. She checked all the tack and hung it ready on handy tree branches. Her last act was to remove the Martini-Henry carbine she carried from its scabbard, and lean it against a tree close to hand. Finally she started on an evening meal.
A couple of days earlier she had spent some time with three women of the Wardaman tribe, learning many of the natural fruits and delicacies that most stockmen never bothered with. That day, on her travels, she had stopped to pick billy goat plum, and wild grape. She'd also made a citrus-tasting drink from a nest of green ants.
Cooking was not a chore to Red Jack, and she gently sautéed the fruits in a pan. Unwrapping a square of linen she revealed a lump of pink corned beef she had purchased back on the Katherine. With her folding knife she sliced the meat into squares and stirred them in.
When she had finished she cleaned the pan and plate in the creek, and unrolled her swag. She crawled under the blanket, as always, fully clothed, her rifle beside her under a fold of canvas.
This was the danger period, she knew, in those moments before she fell asleep. When her mind always tried to delve back into the past.
Childhood. Growing up hard on the Darling Downs. Bonded to horses as soon as she could walk, at fifteen she'd become a buckjumping champion. Her reputation spread from Roma to Thargomindah. Riding astride like a man she earned more than a few curses from the flash lads who fancied they could ride and couldn't stand being bested by a girl, and a skinny young one at that.
But that was before the fire. Long before the tragedy that made her a wanderer. Long before the lonely years on the track.
For some weeks now, there had been a new thought that entered her head in these minutes before she slept. For the first time in many years, it was a man. He was tall and well made, big in the arms and chest.
Tom Nugent had called him Scotty. There was something very special about him. A shy smile, that deep Scottish brogue …
She did not think for a moment that she was ready to fall for another man, but the memory of Scotty, leaning on the rails watching her work a horse gave her pleasure, banished the memories that slithered from the dark shadows in her mind.
With these thoughts, Red Jack fell into an exhausted slumber. Under the myriad stars, with a faint breath of welcome cool air moving over the landscape, her dreams were filled with that tall and gentle Scotsman.
Continues next Sunday …
©2018 Greg Barron
Whistler's Bones by Greg Barron is available at all good book outlets, Amazon, iBookstore and ozbookstore.com

Camp Leichhardt by Greg Barron is also available from Amazon and ozbookstore.com

Galloping Jones and Other True Stories from Australia's History is also available from Amazon, iBookstore and ozbookstore.com