There's a long tradition of laughing at authority in Australia. Holding the constabulary up to ridicule was often the response to oppressive police tactics.
Australian bushrangers loved nothing better than making fools of the "traps." Some entered stolen racehorses in bush races and won, or even impersonated the police commanders who were hunting them. Many were such supreme bushmen, that they were able to evade their pursuers for years.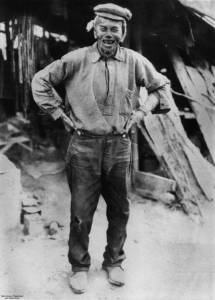 Escaping from custody was a great lark …
Bushranger Captain Thunderbolt escaped the infamous Cockatoo Island by swimming across a dangerous stretch of water to shore. He remained at large for six years, and showed his contempt for the police by carrying an empty pistol.
Galloping Jones was known for running off from his police escort just for fun, then allowing himself to be recaptured; once he'd had a drink and a feed.
This account from the diary of early Territory policeman, Augustus Lucanus (who was once a soldier in the German army), had a similar theme:
Being transferred to Pine Creek and put in charge of the station, I had plenty of riding and bush work to do. My patrol extended to the Katherine River. One day I had to take a white prisoner and hand him on to the next station, to be forwarded to Palmerston. A heavy storm came up.

The rain and lightning were terrible. There was one fearful clap of thunder, worse than the rest, after which pieces of timber went flying all ways. A dry tree close by us had been struck. The horses bolted, and by the time I had managed to pull up my frightened mount I could see nothing of my prisoner. I searched and tried to find some tracks, but with no success. The rain had washed them completely out, so I rode on to camp at the Union. Arriving at the hotel I found my prisoner waiting for me in the bar. He was having a whisky. I was very pleased at this.
Lucanus went on to say that he wouldn't have been so worried if the prisoner was Chinese, for the practice at the time was to simply grab another one, regardless of his innocence.
With attitudes like this it's no wonder the ordinary people of Australia, whatever their race, enjoyed a good laugh at a policeman's expense!
Written and Researched by Greg Barron.  

Whistler's Bones by Greg Barron can be ordered from the following outlets.

Paperback

Ebook

Or have a browse at ozbookstore.com

Also available: Galloping Jones and Other True Stories from Australia's History