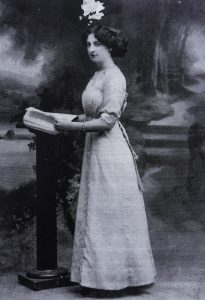 Back in the 1920s, mental illness was seen as shameful. Sufferers were locked away, and subjected to "treatments" based on barely tested theories. The story of Alma McGee is a case in point.
Alma's mother, Frances, came from a Protestant family – landed gentry in Cork, Ireland.  Frances fell in love with the Catholic stable boy, Bartholomew Murphy. Disgraced and disowned, Frances was 6 months pregnant when the young couple boarded the SS Whampoa, bound for Sydney. Their first child, Bartholomew was born as they settled into their new country. More followed.
Thirteen years later, Alma was born in James Street, Newtown. Tragedy seemed to dog her life right from the start. When she was 10 her older sister Florence died of a heart infection. One year later her father, the stable boy turned hansom cab driver, also died, at the age of 48. His death certificate stated that he died of stomach cancer and dementia, but a Murphy family story tells that he simply fell off his cab one day, drunk.
Just 12 years old, Alma left school to work as a fabric machinist, and eventually married boot-maker Robert McGee. By the end of the First World War, however, Alma was troubled by nerves, exhaustion and stomach complaints. The death of her nephew Maxwell, aged 8 months, didn't help her state of mind.
Alma's first two daughters, Ivy and Maude, were born during this time, but then, five days before the birth of her third child, Joyce, her husband Robert McGee was taken by the influenza plague that was raking the country. For the next twelve months Alma battled the same flu that had killed her husband, along with "shock" and "nervous turns" while her mother, Frances, helped care for the girls.
At times, however, she was capable of lending a hand in her brother's produce store, particularly putting her sewing-machine skills to work, making aprons and shopping bags. She also served at the counter when needed.
Despite a succession of tragedies, including her brother dying from pueripheral neuritis, in Rockwood Asylum, Alma was again, in 1923, engaged to be married. Yet, on the cusp of her wedding it was revealed that her husband-to-be was already married. The union could not proceed.
This must have seemed like a last straw. Alma, now the recipient of an invalid pension, was bedridden with ulcers, eating disorders, and anxiety.
At the age of 35 Alma was admitted to Royal Prince Alfred Hospital, then Broughton Hall Psychiatric Clinic, and Gladesville Mental Hospital. She was an inmate of these institutions, on and off, for years. The diagnosis given was "Hysteria", "Melancholia Delusiona", and later as "Manic Depressive Psychosis".
Well-meaning but brutal treatments were the order of the day. Under the teachings of an American psychiatrist, Dr Cotton, teeth were seen as a source of bacteria and thus a cause of insanity. All of Alma's teeth were removed and she was fed via a nasal tube while the stumps healed.
Alma was not allowed to see her children, at first, adding to the "hysteria" that she was being treated for. Frances visited her daughter regularly for a few years and then in 1928/29 only twice each year. Later, both Ivy and Maud visited their mother in Gladesville from 1926 to 1933.
The three girls lived with their grandmother, Frances, until she passed away in 1930, then with their Uncle William until he too died, in 1932. Ivy, the eldest of the three teenage girls, now took over as head of the family, supporting her two younger sisters both financially and emotionally. They lived in a tiny but spotless house in Canterbury, Sydney.
After six years in mental institutions, Alma was allowed to return home to live with her daughters. Ivy was by then a capable young woman of 20 years. But still Alma was periodically forced to return to the asylums where she had spent so much of her adult life, despite Ivy's pleas to keep her at home.
The final chapter in Alma's life was both happy and tragic. At the age of 49 she married Jim Parks, at St George's Church, Earlwood. They moved into a flat at the back of a family home in the same suburb.
Unfortunately, some 15 months later, Alma suffered a serious bout of flu. A doctor was called but he could not come. She died the next day in an ambulance on her way to the hospital. She was 50 years old.
*******
Postscript: Alma was my great-grandmother. My mother, Faye, oldest child of Alma's youngest daughter Joyce, remembered her as kind and loving. She also had fond memories of "Poppa Jim", Alma's husband for those few short months.
Greg Barron