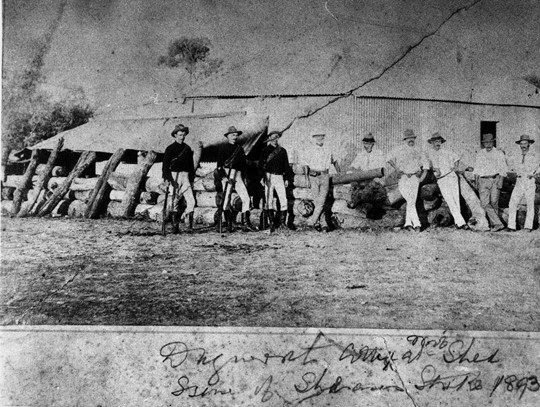 The shearers' strikes of the 1890s flared dangerously close to open warfare. It was a bitter struggle, with no sympathies between the conflicting sides. As one old timer recalled:
The wonder is that the strike and its attendant disturbances did not end in civil war. Since the Eureka Stockade, Australia has never experienced such a period of industrial upheaval, with the shearers in thousands armed with rifles, and military and police parading the districts of the central-west with an armament that included Gatling guns. There were many clashes and sensational incidents. Wool sheds were burnt on some stations, and considerable damage to property ensued before the struggle ended.
The reasons for the strikes were many, but were mainly related to pay and conditions. Shearers were paid just fifteen to seventeen shillings for every hundred sheep they shore, and were often expected to live rough while at the shed. Shearers also objected to being forced to shear wet fleeces.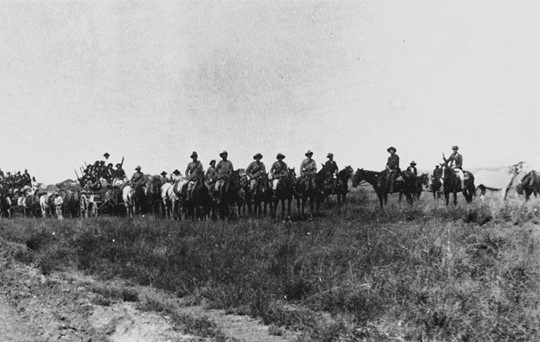 In 1894, a heavily fortified woolshed near Kyuna, Queensland, was bristling with guns, manned by special constables and station employees. It came under attack from a dozen determined shearers. Bullets flew in both directions, but the defenders kept themselves hidden behind stout log barricades.
One of the shearers crept forward with a kerosene bottle and used it as a crude Molotov cocktail to set fire to the shed. The defenders were forced to withdraw, but the arsonist hadn't reckoned on the presence of 140 sheep in the yards. All were burned away to a terrible death. So ended the Battle of Dagworth.
The next day the squatter and the special constables who had been in the siege rode down to a nearby waterhole, where they found the body of Sam Hoffmeister, the man who started the fire. Racked with guilt he had shot himself during the night.
Interestingly, Banjo Patterson, then a lawyer hired to bring the warring parties together, visited Dagworth in the aftermath of the siege. Soon afterwards he made that historic visit to Combo waterhole, near Winton, with the station manager MacPherson, where they surprised an old swagman killing and dressing a station sheep.
It's almost certain that the suicide death of Hoffmeister made its way into the lyrics of Waltzing Matilda, a story of independent spirit and resistance to authority.
Written and researched by Greg Barron
This story appears in the book Galloping Jones and other True Stories from Australia's History by Greg Barron.