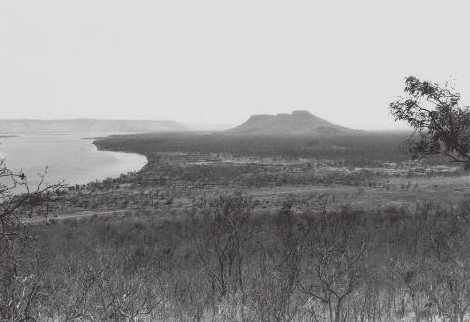 "Captain" Joe Bradshaw was one of the most adventurous of the early Northern Australian pastoralists.
He was born in Melbourne in 1855 with cattle and farming in his blood. His father owned several properties in Victoria, including Bolwarra and Bacchus Marsh Stations.
An explorer by nature, by his early twenties, "Captain" Joe Bradshaw was plying the waters of Northern Australia in a schooner named Twins. He was particularly interested in the Kimberley district, finding excellent pastoral lands along the Prince Regent River, where he took up a score of 50 000 acre blocks. Naming the station Marigui, he set out to build the property into a pastoral showpiece.
Trips "back south" to raise money for his enterprises were interspersed with problems, such as the WA government hiking fees to such a level as to make new cattle enterprises uneconomic, and his first choice of stock – sheep – proving to be unsuited to the conditions. He also once returned to the then bustling town of Wyndham to find that it had been ravaged by a cyclone.
Joe's cousin, Aeneus Gunn, was one of a number of friends and family who arrived to manage stations and businesses on Joe's behalf. The future wife of Aeneus, Jeannie Gunn, much later wrote the Australian classic, We of the Never Never.
Joe's love affair with the Victoria River district began with a trip up that mighty river in a steamer called Red Gauntlet. The trip was ostensibly to drop a Government exploration party upriver, but Joe was impressed with the beauty of the mountains with their sheer cliffs, and the Mitchell grass plains. In partnership with his older brother Fred, Joe took up 20 000 square miles encompassing almost all the land between the Victoria and Fitzmaurice Rivers, and all the way west to the sea.
On a trip "down south" Joe fell in love with a young woman called Mary Guy, and married her on a trip to Melbourne in 1891. During 1893 Mary delivered two children, William Guy and Jas, both dying in infancy.
More disaster followed when Joe's brother and business partner Fred was travelling from the Victoria River to Port Darwin in his oil-powered launch, the Bolwarra, with two friends and a Russian engineer. They called in at Port Keats near the mouth of the Daly where their Aboriginal "boys" deserted. A new crew were persuaded to join them, but that night, while the white men slept, anchored off Point Cook, they were bashed to death with clubs.
An expedition led by a policeman called Kelly found the launch drifting, damaged and bloody, and most of the bodies on the shore nearby. They were buried on a sandy beach, but for Joe Bradshaw this wasn't a fitting resting place for the older brother he loved.
Joe had a number of coffins made, and travelled by lugger to the site. Bodies of the other members of the party were presumably repatriated to Darwin, but Joe had special plans for Fred. He carried his brother's body back to the big river. The cliff top Joe chose was too solid to dig a hole, so Fred was laid to rest under a cairn on a high cliff, now known as Bradshaw's Tomb, overlooking one of Australia's most beautiful river valleys.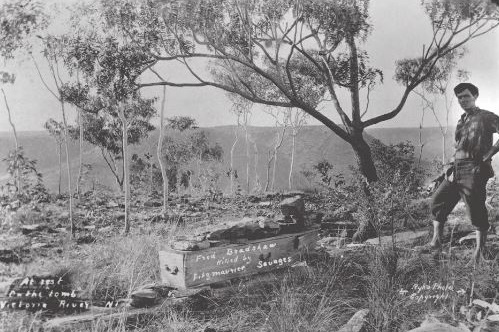 Even then, despite a diagnosis of diabetes, and Mary returning "South" to supervise their son's education, Joe did not slow down. He was pivotal in the formation of a company called the Eastern and African Cold Storage Supply Company.
This company managed, through lobbying and powerful friends, to obtain leases and other arrangements to use the eastern half of Arnhem Land as their private domain. Before long, the area was running up to 17 000 head of cattle in the face of determined resistance from local Traditional Owners. Like previous attempts to use this area for pastoral purposes, Arafura Station was ultimately a failure. (See the Jack and Kate story here for more on this)
In 1916 Joe sustained a wound in his foot, which soon turned septic. Lying incapacitated in Darwin Hospital, Joe's last wish was that he be buried next to his brother, under a cairn of stone on the hill called Bradshaw's Tomb on the Victoria River.
According to an obituary:
"There are many worse men in the world than the late "Captain" Joe Bradshaw. Whilst he had his faults and weaknesses, he was a kindly and courteous gentleman at heart, absolutely "straight" in all his dealings with hls fellow men."
Joe Bradshaw was a one-of-a-kind. Coming from a background of wealth, he had the funds to treat Northern Australia as a playground, notwithstanding the isolation and hardship he must have endured at times. He was a long-time member of the Royal Geographical Society of London and is credited with being the first white man to view the Gwion Gwion style of indigenous art, which was named after him for many years. Yet, for all that, brutal deeds were done in his name, and at heart Joe Bradshaw was ultimately concerned with making money and empire building.
Joe's wish to be buried beside his brother on that Victoria River cliff top remains unfulfilled. His grave can be found at the Darwin Pioneer cemetery at Palmerston, south of Darwin. Mary outlived her husband by 26 years, passing away in 1942 at Kew, Victoria. Bradshaw Station is now a Royal Australian Air Force Testing Range.
---
Written and Researched by Greg Barron. His first book of true Australian stories is available in all good bookstores and online from ozbookstore.com