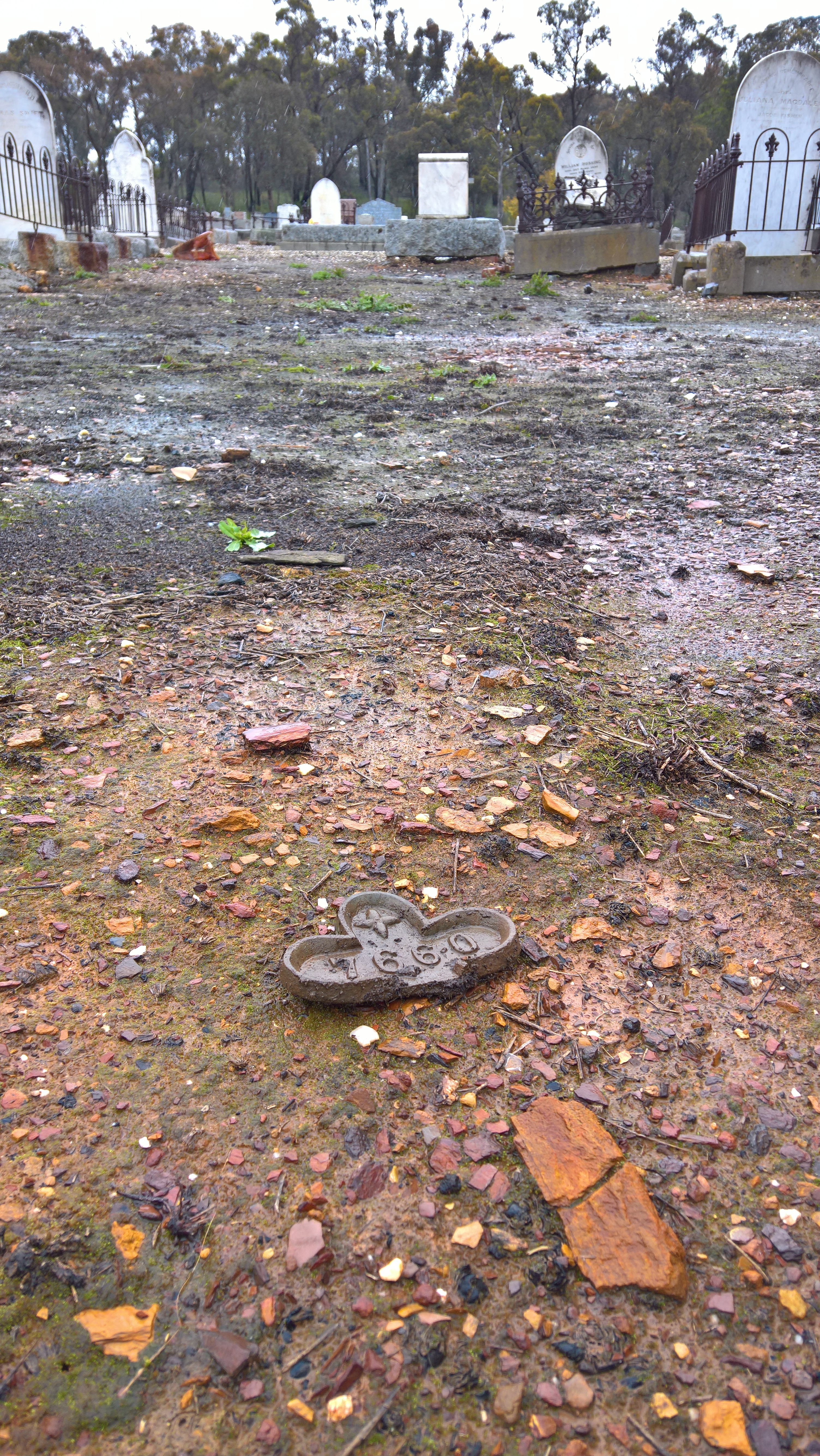 Continuing on the series of background articles to Whistler's Bones, this one covers the arrival of Charlie's father in Australia, the meeting of his parents, and Charlie's early years.
This is a long post, but if you've read Whistler's Bones, or intend to, it will give you some extra background.
---
Charlie Gaunt's father was called John Moore Gaunt, the son of a Leeds barrister and alderman. John arrived on the Tippoo Saib in 1852, twenty one years old, and full of ambition and charm. He was part of the first wave of goldfields immigrants, fired-up by stories of men picking nuggets off the surface at Mount Alexander and Ballarat.
By the time John reached the fields the plum claims were already pegged, but there were millions of tonnes of alluvial gravel still to be panned. He must have had some success with the sluice box, for in 1853 he purchased 40 acres of land at Yarram Yarram, near Mornington, in partnership with his brother. This he disposed of in the next few years, but then, in 1857, he took up a parcel of seventy acres. John, it seems, never set eyes on the block, but the land was leased out, with an annual rent of £20.
By 1856 John was living in Park Street, St Kilda, working for the Victorian government. Four years later, his big break came. He was appointed to the post of acting Gold Receiver in the town of Inglewood.
Life in Inglewood suited John, and he made a life-long friend, a young doctor, around his own age, called Henry Hayton Radcliffe. Together they joined the Aurora Lodge of the Freemasons, a fraternity of Anglican businessmen organised into lodges: the members of which advance through a series of guilds. The lodges offered networking opportunities similar to modern day Lions and Rotary Clubs.
Augusta Fuller and her sister Charlotte were by then eligible young women, living in the area. Augusta was in her late teens, Charlotte her early twenties.
John Gaunt was playing cricket for the Inglewood XI one fine Saturday, making a sensible thirty-six runs before tea. At the break mutual friends presented him to Augusta.
'I enjoyed watching you bat,' she said.
'If I'd known such a presentable lady was watching I would have bashed out a century.'
After tea John returned to the crease and was clean bowled first ball!
John Gaunt was fifteen years older than Augusta, and must have made her heart skip a few beats. After all, in 1862 he had been added to the roll of Magistrates for the State of Victoria. He appeared to offer stability and financial well-being, qualities that must have been irresistible to Augusta.
The wedding followed three months later, on the second of December 1863. The Reverend William Chalmers conducted the ceremony. Anna Maria gave her daughter away and John's mate and brother-in-law Henry was best man.
The future seemed bright. John and Augusta were essentially compatible. Both from strong Church of England families, with intelligent, professional forbears, they were committed to their family and looked forward to raising children together.
John and Augusta's eldest son, William, was born in Inglewood, near Bendigo, yet the rising star of John's career was faltering. He formally resigned from the roll of magistrates in the Colony of Victoria. No reason was recorded, and he was soon being shunted between lesser roles.
The family moved to Melbourne, and were living in Argyle Street, St Kilda, on December the 6th, 1865, when the couple gave birth to a second male child. They named him Charles Edward Gaunt.
John Gaunt had a dry and cutting Yorkshireman's sense of humour, and had always been keen on a drink or two. Increasing overindulgence meant that cracks soon appeared in his life, both personally and professionally. He was posted to Bairnsdale, Gippsland, first as an acting Lands Officer, then as Clerk of Courts, but his fondness for whisky made it difficult for him to carry out his duties to the satisfaction of his superiors. It was also tough on his family, for he was a hard man, prone to bouts of violence.
John and Augusta's first daughter, Harriet, died after just four weeks and four days of life. The cause was listed on her birth certificate as 'Debility from Birth.' Watching her waste away must have taken a heavy emotional toll.
Tired of the constant shifts, the family soon elected to stay put while John went off for yet another relieving or short term position. These years were spent in rented houses in St Kilda and Prahran, Melbourne – Fitzroy Street, Robe Street, Octavia Street, and Punt Road, Prahan.
St Kilda was still in the second phase of its development. The rough port town, and the seaside coffee shop suburb were still in the future.
As historian John Butler Cooper noted of the city at in the 1860s and 70s:
"St Kilda was a conservative, homely and very English place … the prevailing sentiment was English, for most of the fathers, and mothers had been emigrants. They formed the backbone of the community of St Kilda, and gave the place its character."
Family events became shared milestones. When Charlie was six years old the house next door to theirs in Octavia Street caught fire in the early hours of the morning, burning to the ground while the boys, their father and the fire brigade worked tirelessly to prevent the blaze spreading. All the Gaunt family's outbuildings were lost, including presumably, the outside dunny, but the rented house was saved.
In those days Prahran was mainly open paddock, and wandering cows were the cause of many an argument. The Gaunt family kept at least some livestock, for in August 1868, John Moore Gaunt was fined five shillings for having an 'errant' goat.
Every Sunday, the family dressed up and walked to the All Saints Church in Chapel Street, East St Kilda. Faced with Tasmanian bluestone, it was the largest parish church south of the equator, able to squeeze in 1400 worshippers. Weekly services were run by the founding father, Reverend John Herbert Gregory, who had given up a career in law to take Holy Orders.
The children attended the schoolhouse attached to the church, and for secondary schooling a Grammar School opened in 1871 on the corner of Chapel Street and Dandenong Road. Fees were high – up to three guineas per term for day students, but the family managed.
Two more girls were born. Marion arrived in 1871 and Ellen in 1874. Both were baptised at St Kilda by the Reverend Gregory. The church was a constant, steadying influence, as was a large extended family. John's brother, James Richardson Gaunt, who had immigrated a few years after John, visited often. He had a much more adventurous spirit than John, and even played a small part in the Eureka Rebellion on the Ballarat goldfields.
Augusta's mother Maria was living in Mair St, Ballarat, and would also have been a regular house guest. George remained a loveable ruffian, in and out of trouble in the same area.
The Gaunt family's closest friendship was still, however, with Augusta's sister Charlotte, and her husband, Henry Radcliffe. Their years in Inglewood together had made them close, sharing the excitements of childbirths, and the sadness of Charlotte losing her daughter Ella at just nine months, while the men chased success in their fledgling careers.
Change was coming, however, very little of it for the better.
John's drinking went through cycles of wild excess followed by sober periods that might last for months or even years.
Just one dram, Aggie. That's all I'll have …
James Richardson Gaunt moved to Queensland, setting himself up as a businessman in partnership with a man called Henry Britcher, in Adavale, west of Charleville. Henry Britcher's brother George would later feature tragically in one of Charlie's adventures.
John publicly forswore booze, and declared himself a teetotaller in 1877. There were reports that he had joined the Good Templar Crusaders.  This 'new leaf' brought results, and John's final government appointment was to Sandhurst, as Bendigo was then known, to perform the duties of Paymaster and Receiver.
The family settled into a house rented from the All Saints Parish, on Rowan Street, within walking distance of the Government offices where John worked, and also the Masonic Hall. The children thrived in the new town. William and Charlie attended the Church of England school run by the fiery Reverend Croxton next to their parish church, named All Saints just like the one at home in St Kilda.
All Saints Sandhurst was a gothic edifice of yellow sandstone blocks, squat and sacred-looking. It had narrow arched windows fitted with stained glass images of the saints in dull colours.
On Sundays John, Augusta, William and Charlie sat together in the hard pews of the church, while the girls scampered off to Sunday school. John was a bloated and increasingly tragic figure, now suffering from dropsy, his puffy limbs and neck the subject of laughter and jokes behind his back.
Twelve months later, in 1879, his dropsy worsening, and entering the final stages of alcoholism, John Gaunt was dismissed from government service for 'gross neglect of duty.'  At around the same time, John's father back in Yorkshire died, and he expected a large inheritance.
The Bendigo Advertiser reported in May 1879 that J.M. Gaunt was the recipient of a considerable sum of money from his father's will and that he had announced his intention, should his health permit, to travel by sea to England at the first opportunity. John was, according to this report, suffering from 'colonial fever' and needed a sea voyage to clear it from his system.
John died a year later, at the age of fifty, principally from cirrhosis of the liver. He was buried in the old Bendigo cemetery, and no trace of a headstone remains. It seems certain that by then his old employers had turned their back on him, and there was no government funeral.
With two pounds and five shillings of rent overdue, and John's money tied up until the will could be probated, the church wardens of All Saints Parish acted quickly. With full legal backing, they ejected the family from the Rowan Street house, forcing a fire sale of furniture and effects; everything the family had collected over the years.
Augusta and her four children found themselves out on the street. Marion was nine years old, Ellen only six.
Charlotte and Henry (also the executor of John's will) came to the rescue, and the broken family planned a move to Ballarat, at least until some money from John's will became available to them.
The family was not destitute. John's estate included ownership of the seventy-acre block at Mornington he had bought with his brother, (which would later cause a serious feud and numerous court cases). He also had fifty-one pounds to his credit in his account at the Commercial Bank when he died, presumably the remains of his inheritance. Yet, he had racked up a number of debts. Crabbe and Kirby, solicitors, executors of the will, placed a notice in the Bendigo Advertiser calling for particulars of all claims against the estate of John Gaunt to be made by August, 1880.  These small debts totalled some seventy-two pounds.
The real salvation was a life insurance policy valued at three hundred and fifty pounds; John's gift to the family he had let down so badly. Overall, Augusta and the children received just under four hundred, enough to buy a cheap house, but not enough to invest at interest and survive on.
But that money was a long time coming. Augusta tried desperately to hold the family together. The boys, however – William and Charlie – had other ideas.
William, like his grandfather on his mother's side, planned for a career in medicine. With a favourable response to an application to study at Edinburgh University, Scotland, he booked his passage to the United Kingdom.
Charlie, barely fifteen years old, spent his share of his father's money on a horse and saddle. He taught himself to ride on barren goldfields hills and over long hours in the saddle he discovered that he liked horses and they liked him.
And that, pretty much, is where Whistler's Bones starts off.
---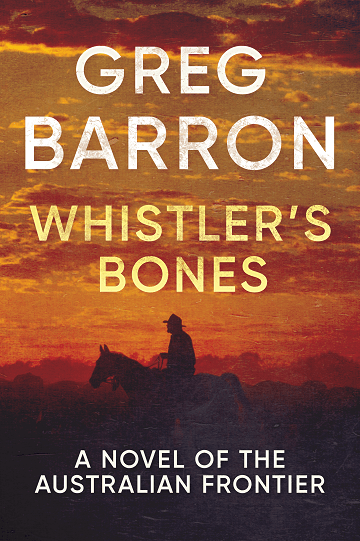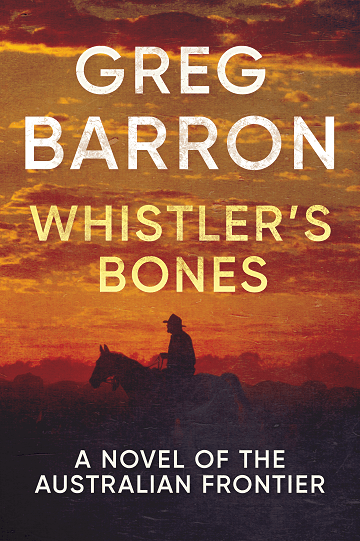 Whistler's Bones: A Novel of the Australian Frontier by Greg Barron is out now. You can find out more about it here,  purchase a paperback copy here, or buy the ebook version here.