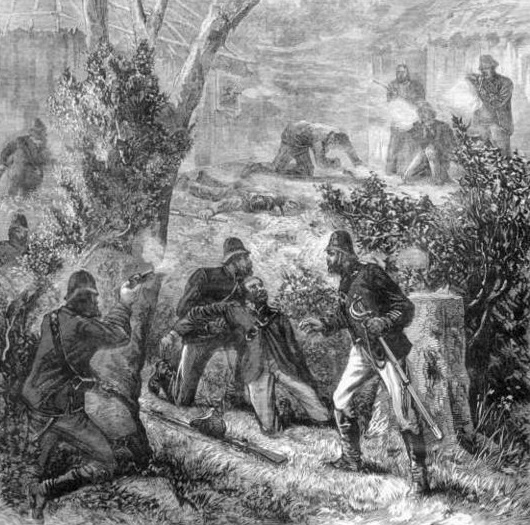 It was Saturday, November 15, 1879, and the McDonald family, at Wantabadgery Station, half way between Wagga Wagga and Gundagai, were settling down for the evening. A shepherd galloped in from further down the Murrumbidgee with the news.
"I seen a gang of horsemen coming up along the river," he said breathlessly. "I swear it's Captain Moonlite and his men."
While family and employees alike took refuge inside the house, seven horsemen rode out of the night. A pounding on the door followed. Claude McDonald, the station owner, opened the door a crack, revealing Captain Moonlite himself, dressed in a dark cloak, as dashing as his reputation.
"Good evening," the bushranger said in his cultured Irish accent. "My men and I are starving. Can we trouble you for bread and tea?"
"Ride off, and don't come back," came the answer. Furious, Moonlight stalked back to his men and horses. The gang members loaded their revolvers and Snider rifles. Gunfire was exchanged, and within a few minutes, Moonlite had taken control of the homestead. The gang rounded up the neighbours, twenty-five in all, and raided the Australian Arms Hotel, a mile or two down the Gundagai Road, taking all the liquor they could carry.
Moonlite and his men ate and drank into the night. To entertain themselves they forced young women to play the piano or sing, and held a mock trial of a man who tried to escape. One brave stockman attempted to charge the guns, but was knocked down and restrained.
Four troopers, arriving on the scene, had little chance of taking down the well-armed gang, who fired at them through the windows. Riding off for reinforcements, however, the troopers were soon back with five more men from Wagga Wagga. The policemen surrounded the homestead, and the Moonlite gang, seeing the odds against them, slipped out by a side door.
Fighting a rear-guard action, firing from outbuildings and neighbouring farms, Moonlite and his men finally found themselves penned in to an outdoor kitchen. Gus Wreneckie, just fifteen years old and by far the youngest member of the gang, was shot and killed. There was no turning back now. A bullet from Moonlite struck home, killing Constable Edward Webb-Bowen.
Captain Moonlite's right-hand-man, James Nesbitt fell also, shot dead, and this was a bitter moment for Moonlite. He fell to his knees, cradling his dying mate in his arms. Constable McGlede saw his opportunity, charging the kitchen, disarming the leader and scattering the gang. It was all over.
Only Moonlite himself, and a man called Tom Rogan, felt the hangman's noose, the other three survivors were given long prison sentences. The legend that grew up around Moonlite's life kept the public interested for years, and the facts slowly faded from memory.
Captain Moonlite, whose real name was Andrew George Scott, was surely Australia's strangest bushranger. The Irish-born engineer, soldier and lay-preacher, though violent at times, was more of a talker than a fighter, and had an inflated opinion of his own worth. He had a history of swindling friends and opportunistic robbery. The cape was just part of his penchant for dressing up.
His first major heist involved robbing gold bullion from one of his best friends, then leaving a note claiming the robbery in the name of 'Captain Moonlite.' He later caused a mass break out at Ballarat gaol by tunnelling through a wall and into neighbouring cells. After years of trouble with the law, and a second stint in prison, he formed a gang with six other slum dwellers and ex-cons and headed for the bush.
The police and public took Moonlite seriously, but other bushrangers and the hard men of Australia's countryside did not. Legend has it that when operating in Northern Victoria, Moonlite sent a message to Ned Kelly and his gang, suggesting that they join forces. The answer apparently came back from Ned that if Moonlite or his men came anywhere near him he'd shoot them down like dogs.
Much has been made of Scott's relationship with Nesbitt. There's no doubt that they were unusually close. Was Captain Moonlite, with his love of the theatrical, and deep feelings for his friend Nesbitt, Australia's only gay bushranger? We'll never know for sure, but we do know that Nesbitt's death broke his heart.
"My dying wish is to be buried beside my beloved James Nesbitt," Scott wrote before his hanging, "… the man with whom I was united by every tie which could bind human friendship. We were one in hopes, in heart and soul and this unity lasted until he died in my arms."
Note: A plaque commemorating the Siege of Wantabadgery hangs on the wall of Gundagai's Criterion Hotel.
Researched and written by Greg Barron.
Click here to view the sources for the story.
Learn more about Galloping Jones and other True Stories from Australia's History by Greg Barron.