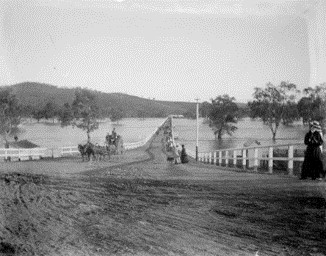 Gundagai Flood 1900: National Library of Australia
Australia's worst flood drowned one third of the population of Gundagai in 1852. The town was originally built on low-lying areas around a natural river crossing and Morley's Creek. The inhabitants were used to being cut off by floodwaters, taking refuge in their lofts when the water rose.
Yet on June 24 1852, the rain kept falling and the river kept rising. By late that night, two metres of water had inundated or swept away many of the houses and huge floating trees were pummelling what was left.
When the sun rose the next day, eighty-nine people were dead, and dozens more were left clinging to trees and rooftops. Rowboats were useless in the swift water.
Yarri, Long Jimmy and Jacky Jacky, local Aboriginal men who had been warning Gundagai residents for years that their town would be washed away, launched their bark canoes in a desperate rescue attempt. Over the next two days, with the river now one mile across where the town used to be, at least forty, perhaps sixty more people were saved by the efforts of these Indigenous boatmen. Long Jimmy died from exposure after his efforts on the flooded river. Yarri and Jacky Jacky were rewarded with bronze medallions.
The town was eventually rebuilt on higher ground, but it still suffers from the occasional inundation, with water entering the main street in 2012, thankfully without loss of life.
Written and Researched by Greg Barron.
Get the book, 'Galloping Jones and Other True Stories from Australia's History' at http://ozbookstore.com/item/gallopingjones
Click here to view the sources for this story.