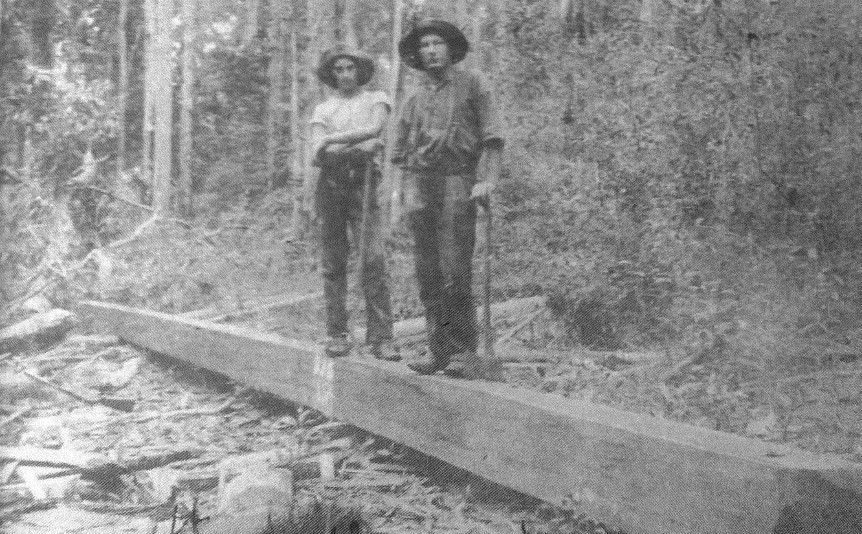 Things were tough in the NSW North Coast forests in 1907. All the cedar had been cut years earlier, prices for hardwoods had slumped, and the best way to make money was by shaping girders and sleepers.
Tamban Forest woodcutter Bob Cooper was lucky enough to snag an order for a huge 86 foot (26 m) girder from a Sydney construction company. Bob selected a giant ironbark tree, and skilfully felled it along the hill contour.
After trimming off the branches Bob used a string line blackened with charcoal as a straight-edge, and over days of back-breaking labour with a broad axe, finally squared the girder into the required 16 inch (400mm) square dimensions.
Promising a party for his friends and helpers on the basis of a forthcoming big cheque, Bob followed the girder as a bullock team dragged it down to Clybucca Creek, from which point it was punted up the Macleay River to Frederickton Wharf.
Moored at the wharf was the graceful three masted top-sail schooner, Alma Doepel, of one hundred and thirty one tons displacement. One look at the boat was enough to tell that the girder was far too big for the hold.
"No worries," the captain said cheerfully, "we'll get it aboard somehow."
Bob had some business in Kempsey to attend to, but returned a couple of hours later to see that the Alma Doepel was still at the wharf, with no sign of the big girder.
"You got it in the hold?" Bob exclaimed. "How the hell did you do that?"
"Easy," the captain told him. "We just cut it in half. Then it fitted nicely."
History doesn't record how Bob took that news. But apparently the party planned in celebration of a big cheque was cancelled.
(Interestingly, the Alma Doepel, originally built in Bellingen, survives today as a sail training ship, and is berthed at No 2 Victoria Dock Melbourne undergoing a refit.)
Written and Researched by Greg Barron.
Get the book, 'Galloping Jones and Other True Stories from Australia's History' at http://ozbookstore.com/item/gallopingjones
Click here to view the sources for this story.